Central Vista Inauguration: 10 Things to Know About the Inauguration of Kartavya Path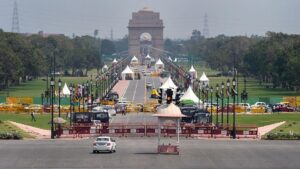 Central Vista Inauguration: Delhi Police has issued an alert on traffic and bus diversion for the day. DTCs have also been asked to provide 'Park and Ride' facility at certain points.
After much planning, hurdles and anticipation, the revised Central Vista will be inaugurated today. Prime Minister Narendra Modi will inaugurate the 3 km long Kartavya Path, the erstwhile Rajpath, at 7 pm. The PM will also unveil the statue of Netaji Subhas Chandra Bose at India Gate.
The Central Vista redevelopment project, when fully completed, will include a new Parliament building, a common Central Secretariat, a new Special Protection Group (SPG) building and the Kartavya Path from Rashtrapati Bhavan to India Gate.
Here are some things to know about the inauguration of Kartavya Path today:
The idea behind renaming the erstwhile Rajpath to Kartavya Path was to reflect the change from the area as a seat of power to an example of empowerment and public ownership.
The BJP government aims to "remove any trace of colonial mentality".
Explaining the reasons for the redevelopment, the PMO said that the areas around Rajpath and Central Vista Avenue are in the grip of traffic, putting pressure on the infrastructure. It also said that the avenue lacked basic amenities such as public toilets, drinking water facilities, on-street seating, parking space, and had poor signage, poor water facilities and poor parking planning.
The PMO also said that it also aimed to organize the Republic Day Parade and other national events in a less disruptive manner and with minimal restrictions on public movement.
Features of Kartavya Path will include beautiful landscapes, green spaces, lawns with walkways, refurbished canals, improved signage and vending kiosks.
The redevelopment of the path will include better parking space, exhibition panels, improved night lighting, rainwater harvesting, water conservation, energy efficient lighting, etc.
Meanwhile, the statue of Netaji that will be unveiled at the India Gate is made of granite. The statue is 28 feet tall and is made of monolithic granite stone weighing 65 metric tons. It was carved by sculptor Arun Yogiraj.
Delhi Police has announced traffic alert for the whole day. From 6 PM to 9 PM, there will be normal traffic diversion from C-Hexagon to Bhagwan Das Road Crossing, Purana Qila Road, Shershah Road, Dr Zakir Hussain Marg, Pandara Road, Shahjahan Road, Akbar Road and Ashok Road.
Diversion of buses started at Moti Bagh Crossing, Bhikaji Cama Crossing, South Leg of Lodhi Flyover, ITO, IP Flyover – Vikas Madh, Ring Road – Yamuna Bazar, Tis Hazari-R/A Mori Gate Junction, Panchkuian Road, AIIMS Flyover, SBM Will happen. -Mathura Road, Neela Gumbad, Ashram Chowk, NH-24-Ring Road, Ring Road-ISBT, ISBT-T Point and Dhaula Kuan.
The Delhi Transport Corporation (DTC) has been asked to provide 'park and ride' facilities with pick-up points at Bhairon Road, Rajghat, Connaught Place and Jawaharlal Nehru Stadium.