Help Desk Set Up At Bengaluru Railway Station To Assist Odisha Train Accident Victims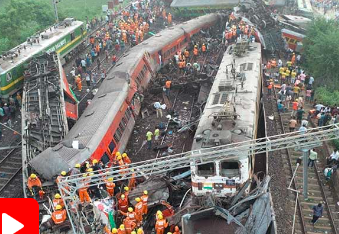 BENGALURU (Karnataka): A relief center has been set up at Bangalore Yashwantpur railway station on Saturday to provide assistance to the victims of the train accident in Odisha's Balasore.
According to reports, Prime Minister Narendra Modi will visit the accident site and the hospital in Cuttack today.
Earlier, he called a high-level meeting with railway officials to review the situation after three trains collided in Odisha on Friday night, killing at least 238 people.
Bengaluru-Howrah Express, Coromandel Express and a freight train collided on three separate tracks at Bahanaga Bazar Station, Balasore district 17 coaches of these two trains were derailed and severely damaged.
Meanwhile, Tamil Nadu Ministers Udhayanidhi Stalin, Siva Shankar, and Anbil Mahesh have left for Odisha's Balasore to enquire about the tragic train accident.
#WATCH | Karnataka: Help desk set up at Yeshwanthpur railway station to assist people following #TrainMishap in Odisha's Balasore pic.twitter.com/6s19JO3GAi

— ANI (@ANI) June 3, 2023
Udhayanidhi Stalin, who met reporters at the Chennai airport on Saturday morning, said, "We are going there to find out the details. The Tamil Nadu Chief Minister has spoken to the Odisha Chief Minister. I will inform you after reaching the spot. Hospital facilities are also ready for the Tamils. The country is hit by a train accident."
On the other hand, Tamil Nadu M.K.Stalin also visited the State Emergency Center in Chennai on Saturday morning and personally inspected the situation. Stalin also said that he spoke to Odisha Chief Minister Naveen Patnaik and assured him of all assistance from the Tamil Nadu government.
The death toll in the Odisha train accident in which two express trains, Bengaluru-Howrah Express and Shalimar-Chennai Coromandel Express collided with a freight train at Balasore, has risen to 238, the South Eastern Railway said on Saturday.
"As per the information received till now, there are 238 casualties. Around 650 injured passengers have been taken to the Hospitals of Gopalpur, Khantapara, Balasore, Bhadrak and Soro," the South Eastern Railway said.