House of the Dragon Episode 9 Review: Hell is Empty, All the Devils Are Here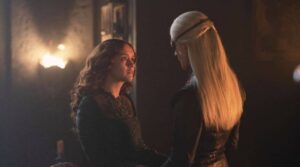 The Kings are gone, and the House of the Dragon descends into chaos.
The final episodes of anything remotely related to Game of Thrones are never meant to be peaceful – after all, humanity's venom, intrigue, treachery and hypocrisy are usually bursting into an unstoppable dam. House of the Dragon's latest episode 9 didn't have any specific shock-and-awe moments, something to match Ned Stark's beheading — which also paved the way for the original series — but it had everything. Episode 9 was full of tension, panic and unpredictability, you never know whose head might be chopped off and who might be burned. Everyone tries to play chess – some with trembling and nervous fingers without giving much thought – others very coolly, but playing the wrong pieces.
The episode picks up after the death of King Viserys (Paddy Considine). His former close friend and King's henchman Otto Hightower wastes no breath in expressing his grief; He has other things to worry about, such as plotting to kill Rhaenyra (Emma d'Arcy), daughter of Viserys, the heir to the throne, and imprisoning anyone who doesn't swear an oath. Ser Kristen is now a schemer as well, and reveals her murderous side when she ousts Lord Beasbury from the council, who expresses his dismay at plans to usurp the throne. Sigh, bad time and place to be a good person
But Rhaenyra and Daemon are suspiciously absent in this episode, perhaps waiting for a truly grotesque showdown in the finale. While the Daemon's cold savagery is sorely missed, there's a lot more going on here as Alicent Hightower must find her degenerate and degenerate son Aegon and make him king, as well as try to save her former best friend from being killed by her own father. Aegon is as unsavory as any Game of Thrones character—he's fathered numerous children throughout the city and runs a despicable child-fighting ring.
Alliciant anchors the episode brilliantly, and she finally says what we've all been thinking – she was a shameless pawn in Otto Hightower's plans, and she might regret it. Her expressions are filled with weariness and weariness as she struggles to use the power of her words against a world of male deception, but to no avail. Another female queen who exerts the same magnetic hold over the show is Rhaenys—the queen who never was. She's been toying with loyalty for a while now, but she wants to know she won't mess up—and she shows in the show's final moments. Rhaenys blasts away with a dragon while Alicent and the entire team shake in their boots. There's a moment where I almost believed this might be the pivotal moment of the show, where she burns them all to death – but it doesn't happen, disappointingly. She glares at the spot with cold fury, then walks away. It won't be easy for them, now will it?