ISL 2022-23: Football Fever in Lohanagari, Back Seat Houseful at Goalpost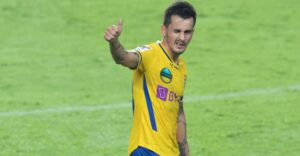 Jamshedpur: As Durga Puja ends, football fever has started in Loknagari. The Indian Super League starts on Friday in Kochi. There was a long queue at Jamshedpur FC's box office at JRT Tata Sports Complex since early morning on Thursday. 9500 tickets have been sold so far for the first match and there is excitement among the spectators.
50 Rs. The North and South Stands (behind the goal post) were housefull. 6200 tickets for this stand have been sold so far. 250 Rs. 1500 and 150 rupees for east lower volley tickets. 1500 tickets have been sold for East Lower Vale. 500 Rs. VIP ticket sales have reached 100. Only 3000 and 10 tickets have been sold for the hospitality. The JRT Tata Sports Complex has a capacity of around 25,000 spectators. Jamshedpur FC will play their first match on October 11 at the JRT Tata Sports Complex. On this day, Men of Steel take on Odisha FC.
The ongoing season of the Indian Super League begins on October 7 in Kochi, Kerala, where Kerala Blasters will face East Bengal FC. Jamshedpur FC will take on Odisha FC on October 11 at the JRT Tata Sports Complex. Last season, Kerala Blasters finished as runners-up, losing to Hyderabad FC on penalties in the final. The three-time Indian Super League runners-up should maintain this status.
Last season Kerala Blasters scored 37 goals, Alvaro Vasquez and Jorge Diaz were the top scorers with 8 each. The Blasters will be without both this season and will rely on Apostolos Gianou and Dimitrios Diamantakos to fill their spots. Of his 37 goals in the previous season, 13 were scored by Indians, with Sahal Abdul Samad scoring six. He is expected to be a key player for Blasters this season.