Naseem Shah – Urvashi : Pakistani fast bowler Naseem Shah has many discussions about Indian actress Urvashi these days. In fact, Urvashi shared a romantic edited video on her Instagram account a few days ago, after which a lot of things were said about Urvashi and Naseem's relationship.
On the other hand, in this viral video, young Pakistani bowler Naseem Shah made a big statement and said that it is not known who Urvashi is. At the same time, after Nasim's statements, actress Urvashi  has also made a big statement about this by sharing a story on Instagram.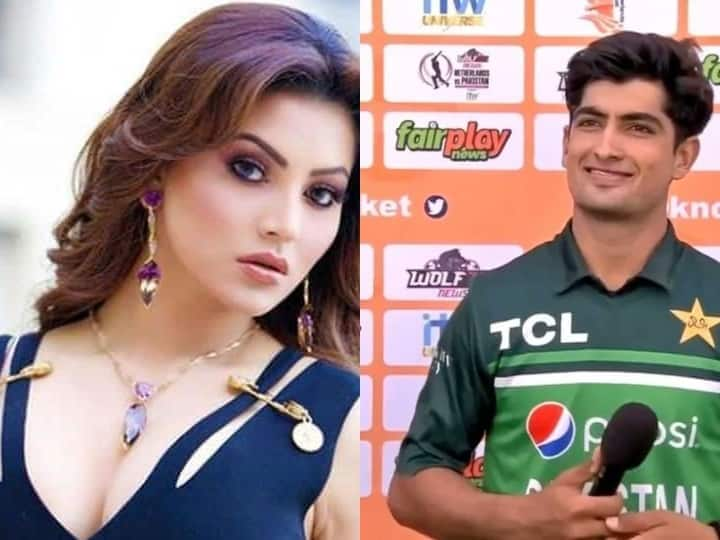 Urvashi made a big statement
After Naseem Shah's statement, actress Urvashi shared a story on her Instagram where she made a big statement. In this story Urvashi has said that a few days ago my team shared a beautiful video that was edited by fans. We didn't know who else was involved in the video. I ask the media not to publish any news about this. Thanks everyone, love everyone.
Nasim said who is Urvashi ?
On the other hand, before Urvashi, young Pakistani fast bowler Naseem Shah spoke highly of his relationship with Urvashi and said, "Who is Urvashi, what is it, I don't know why people make such videos. I do not have such a plan at the moment. Right now my focus is only on cricket and I want to play cricket. While making such a statement, Nasim has put a brake on all discussions related to the relationship between Urvashi and him.
Nasim won the Man of the match
Pakistan's young fast bowler scored two in the last two balls of the 20th over to give Pakistan a thrilling victory against Afghanistan in the 2022 Asia Cup. It was only after his games and Pakistan's victory that the Indian team withdrew from the Asia Cup. At the same time, after winning this match, Nasim said that when I went to the racket, I had the confidence of six sixths. I was practicing hitting sixes and I knew he was hitting bowlers because he had fielders standing inside. I just tried and did it