Nobel Prize for 3 Pioneers of 'Click' Chemistry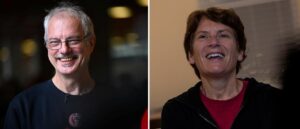 Carolyn Berdozzi, Morton Meldahl and Barry Sharpless won the 2022 Nobel Prize in Chemistry on Wednesday for combining molecules to form new compounds and providing insight into cell biology.
The fields of clinical chemistry and bioorthogonal chemistry are now being used to improve the targeting of cancer drugs being tested in clinical trials.
"Combining simple chemical building blocks makes it possible to create an almost endless variety of molecules," the award-giving organization said in a statement, adding that "sometimes the simplest answers are the best."
Denmark's Morten Meldal described click chemistry as a way to create complex structures and connect them like pieces of the plastic construction toy Lego. The technology is used worldwide to learn more about cells and monitor biological processes. It also allows stable molecules to be assembled in the laboratory without generating the undesirable byproducts that plagued older methods.
American Barry Sharpless joins an elite group of scientists who have won two Nobel Prizes. Other individuals include John Bardeen, a two-time physics laureate, Marie Curie, a physics and chemistry laureate, Linus Pauling, a chemistry and peace laureate, and Frederick Sanger, a two-time chemistry laureate.
"I was completely blown away," said Caroline Bertozzi, from California, after being contacted by phone with the news of her success. As part of her work, she and her team were able to visualize and understand cell surface structures called glycans, which led to a new idea in cancer immunotherapy.
Berdozzi works at Stanford University, Sharpless works at Scripps Research Institute in California, and Meldal works at the University of Copenhagen in Denmark.