Prime Minister Narendra Modi pays tribute to Lata Mangeshkar on her birth anniversary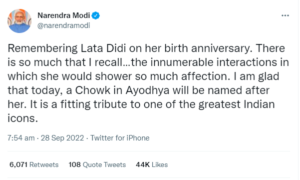 On the occasion of legendary singer Lata Mangeshkar's birth anniversary, Prime Minister Narendra Modi on Wednesday paid tributes to the legendary singer.
To honor Lata Mangeshkar's contribution to the Indian music industry and her efforts to bring the award to the nation, the Prime Minister on Wednesday announced naming a chowk in Ayodhya after her.
He tweeted, "Remembering Lata Didi on her birthday. There are so many things I remember… the countless interactions she had so lovingly. Happy that a Chowk in Ayodhya is being named today.  It's a tribute to one of India's greatest icons."
Remembering Lata Didi on her birth anniversary. There is so much that I recall…the innumerable interactions in which she would shower so much affection. I am glad that today, a Chowk in Ayodhya will be named after her. It is a fitting tribute to one of the greatest Indian icons.

— Narendra Modi (@narendramodi) September 28, 2022
Along with the Prime Minister, several other eminent personalities also appreciated this master singer. Many artists created his paintings to pay tribute on birthday.
Lata Mangeshkar, born in 1929, is known for her miraculous voice that graced hundreds of songs and remains a favorite of many. lata ji dominated broadcast singing for decades. Lata Mangeshkar, who was known as the "Nightingale of India", passed away in February this year.
she is one of the most versatile singers in the Indian film industry. she was born on September 28, 1929 in the family of classical singer Pandit Dinanath Mangeshkar and Shevanti in Indore. Her father's career greatly influenced Lata Mangeshkar, who started learning music from him at an early age. Not only Lata but her siblings Meena, Asha, Usha and Hridaynath also learned the art of singing from their father and are famous personalities in the music industry.