Sania Mirza celebrates her birthday with close friends and family in Dubai
Sania Mirza is well known in the world of tennis for her outstanding career. The star turned 35 today after celebrating her son's birthday last month. Sania Mirza reposted footage of her birthday celebration last night on Instagram Stories. She celebrated her birthday with her husband Shoaib Malik and son Ishaan. India is a country where cricketers are considered superheroes from the field of sports, Sania made her mark and became an idol for many tennis players growing up in our country.
Sania Mirza shared the celebration stories on social media and thanked everyone. She shared photos and videos shared by her near and dear ones who attended the celebration party. Sania can cut a huge cake with all the floral decorations.
The backdrop was lit up with fairy lights and a live performance by singer Fahmil Khan made the evening. Shoaib Malik shared a post on Instagram saying "Happy Birthday Chanu" along with an adorable picture of the two.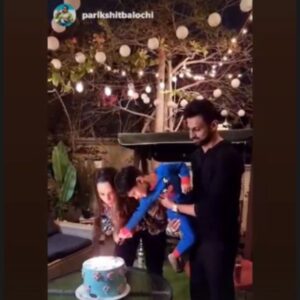 It is surprising that Sania Mirza shared her birthday with her mother Nazima Mirza. To wish her mom, the star posted a throwback picture of her childhood days with her mother and a sweet message for her. He wrote, "Happy birthday mom, forever grateful to share my birthday with you. Your baby forever, love you." The post also includes two more pictures of Nazima Mirza with her two daughters.
Sania Mirza, who started her tennis journey at the Australian Open in 2006, became the first Indian player to compete in a Grand Slam tournament. He faced many challenges in his singles career but he never backed down. She celebrated her big wins against Martina Hingis, Svetlana Kuznetsova, Vera Zvonareva and Marian Bartoli.
Sania Mirza is India's no. 1 player from 2003 to 2013, when she retired from her illustrious singles career. In her doubles career she never failed to make her country proud by winning three Grand Slam titles (Australian Open 2016, Wimbledon 2015 and US Open 2015). In 2015 she was also the World No.1 in doubles.