Sara Ali Khan-Shubman Gill video sparks dating rumours, days after cricketer unfollowed Sara Tendulkar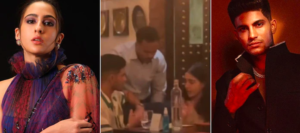 Sara Ali Khan was recently seen having dinner with cricketer Shubman Gill. The actress had earlier dated Kartik Aaryan. The two were reportedly dating during the shooting of Imtiaz Ali's 'Love Aaj Kal 2'. They soon broke up.
Bollywood and cricket fans are in turmoil after pictures of Sara Ali Khan and Shubman Gill eating together surfaced online. A fan spotted the two at a restaurant and shared their video on TikTok, prompting speculations that Sara and Shubman are dating. The video shows a woman saying she just saw 'Sarah at Bastian', followed by a picture of the actress sitting at a table with the cricketer.
Shubman gill date sara ali khan ko kar eha tha aur hum kisi aur hi sara ko lapet rhe the🥲#Shubmangill #CricketTwitter pic.twitter.com/oEAAXqXgOz

— Arun (@ArunTuThikHoGya) August 29, 2022

Shared by TikToker Uzma Merchant, the clip features Sara and Shubman Gill in Bastian, placing an order with a waiter next to them. Shocked fans asked "Kya chakkar hai (what's happening)." One user wrote, 'From a cricketer's daughter (Sara Tendulkar) to the granddaughter of a cricketer (Sara Ali Khan) #Shubmangil has come a long way..' Trolling her, a user said, 'Shubman Gill Sara Tendulkar Apart from dating Sara Ali Khan !! Man.. someone tell him that it is "Saare Jahan Se Achha" and not "Sara Jahan Se Achcha!!"