Book Review: "The Golden Ladder: Rise to be Unstoppable" by Vijay Parthasarathy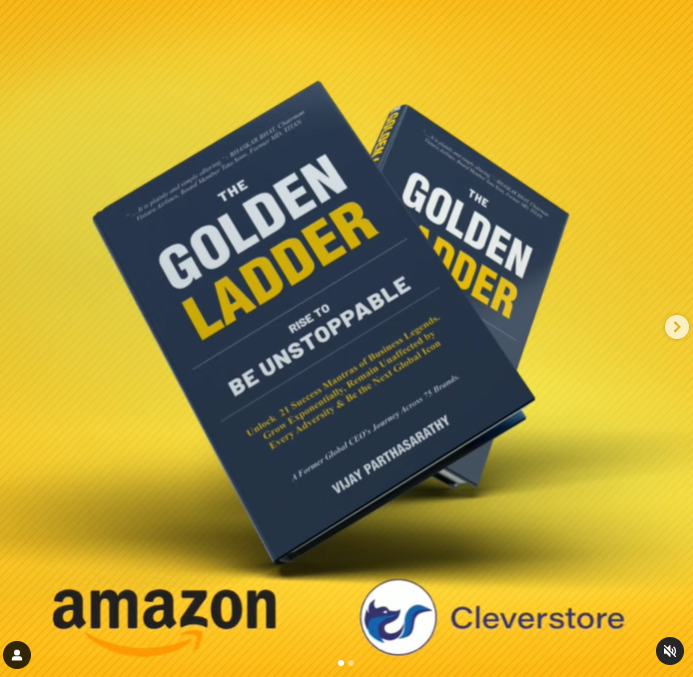 If you're an entrepreneur, aspiring business leader, or simply looking to transform your life and achieve success, "The Golden Ladder: Rise to be Unstoppable" is a must-read. Authored by Vijay Parthasarathy, an IITK and IIM Ahmedabad alumnus with a global CEO journey across 75 brands, this book offers 21 secret mantras of unstoppable legends from Procter & Gamble, Colgate Palmolive, Johnson & Johnson, Tata, Nike, Coke, and Apple, that can help you unlock the code to success and become unstoppable.
Parthasarathy delves into the time-tested secret formula followed by business giants that have enabled them to achieve exceptional heights, create legendary brands like Apple or Nike, and leave a lasting legacy. He also provides a unique business blueprint, a 5-step guaranteed technique, and a 6-step comprehensive visualization process that can help you delete self-limiting beliefs and create life-changing ones to achieve the impossible.
What sets this book apart is its focus on personal transformation, in addition to business success. Parthasarathy shares powerful techniques that can re-program your subconscious mind and help you manifest every dream of yours. He also discusses the 80/20/80 formula to make sure your customers stick with you, three distinctive service secrets to ensure your customer base is always overflowing, and three crucial tips for identifying your perfect mentor.
"The Golden Ladder: Rise to be Unstoppable" is a transformational manual that provides a step-by-step guide to becoming a business sensation and a confident, energy-driven individual. Parthasarathy's insights and experiences with decoding the formula that sets legends apart for centuries despite every adversity can help you defy all conventional wisdom, dominate and rule the world, and ascend the Golden Ladder.
In conclusion, this book is a must-read for anyone who wants to grow exponentially, remain unaffected by every adversity, and be the next global icon. It is an inspiring and practical guide that can help you unlock the secrets to success, transform your life, and achieve your dreams. So, if you're ready to become unstoppable, click the 'BUY NOW' button and pick up your copy today!