New Delhi, Jan 4 (PTI) Delhi's minimum temperature on Wednesday morning dipped to 4.4 degrees Celsius – the lowest of the season – cooler than national capital Dharamsala, Nainital and Dehradun.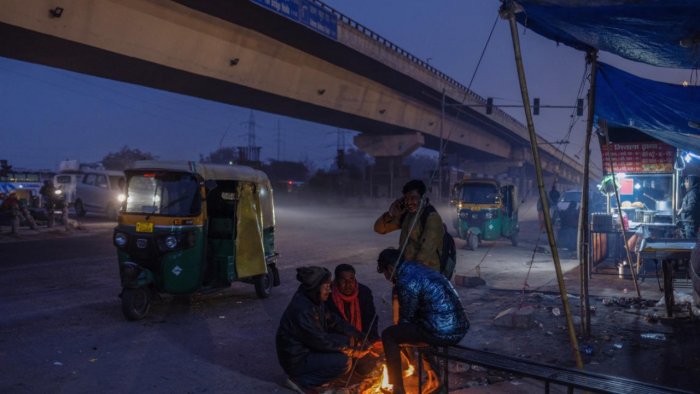 A thick layer of fog reduced visibility to 200 meters, affecting movement of road and rail traffic. At least 19 Delhi-bound trains were delayed by one-and-a-half to four-and-a-half hours due to foggy weather, a railway spokesperson said.
The India Meteorological Department (IMD) shared satellite images that showed thick fog over the Indo-Gangetic plains and adjoining central and eastern regions.
The bridge monitoring station at the Indira Gandhi International Airport recorded a visibility level of 200 meters around 5.30 am.
According to the Met Office, 'very dense' fog is between 0 and 50 metres, 51 and 200 meters 'dense', 201 and 500 meters 'moderate' and 501 and 1,000 meters 'shallow'.
With freezing winds barreling across the plains from the snow-capped Himalayas, the Safdarjung observatory, Delhi's premier weather station, saw the minimum temperature drop to 4.4 degrees Celsius from 8.5 degrees a day earlier.
Delhi's minimum temperature was lower than Dharamsala (5.2 degrees), Nainital (6 degrees) and Dehradun (4.5 degrees).
The Delhi Ridge weather station near Delhi University recorded a cold wave on Wednesday with a minimum temperature of 3.3 degrees Celsius.
"A cold wave is prevailing in Delhi and the maximum temperature is also low, leading to cold day conditions.
Most places will record maximum temperature between 13 degree and 15 degree Celsius," said Senior IMT Scientist RK Jenamani.
However, there has been improvement in Delhi's smog situation, he said.
"Cold wave and cold day conditions are forecast to continue for the next 24 to 48 hours, though there will be some improvement under the influence of a fresh western disturbance, which will affect northwest India from January 7," Jenamani said.
A senior meteorologist said similar conditions will continue across North India including Punjab, Haryana, Rajasthan, Uttar Pradesh and Bihar.
Day temperature will be below normal in these states.
Cold day and severe cold day conditions are predicted to sweep Uttar Pradesh. An IMD official said the maximum temperature in the state will be 10 to 12 degrees Celsius below normal.
North Rajasthan is reeling under severe cold wave conditions, with Suru recording a minimum temperature of minus 0.9 degrees Celsius.
The Meteorological Department has issued a red alert for Uttar Pradesh, Punjab and Haryana for two days on Wednesday and Thursday.
An orange alert has been issued for the Delhi-NCR region for the next two days.
The IMD uses four color codes for weather warnings – green (no action required), yellow (watch and stay updated), orange (be prepared) and red (take action).

Colder weather is expected to drain power grids and pose challenges for homeless people.
Delhi was gripped by 'cold day' conditions on Tuesday as the maximum temperature dipped five degrees below normal at many places in the national capital, including Lodhi Road, Palam, Jaberpur and Mayur Vihar.
A cold day is when the minimum temperature is 10°C below normal and the maximum temperature is at least 4.5°C below normal.
A very cold day is when the maximum is 6.5 degrees Celsius or below normal.
The IMD has forecast dense to very dense fog and cold day conditions over northwest India for the next four to five days.
It has been reported that cold wave conditions will continue over Northwest India for the next two days, after which the intensity will decrease.
In the plains, the weather office has declared a cold wave if the minimum temperature drops to four degrees Celsius or if the minimum temperature is 10 degrees Celsius or below, 4.5 points below normal.
A severe cold wave is when the minimum temperature drops by two degrees Celsius or 6.4 degrees Celsius above normal.