Indian-American lawmaker in Tennessee accuses expelled Democrat of racism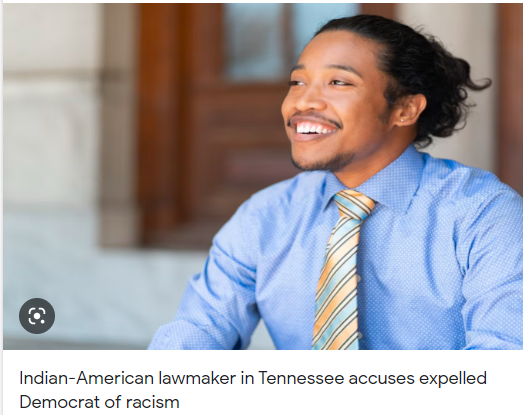 Houston, Apr. 10 (PTI) An Indian-American surgeon and state legislator in the US state of Tennessee has accused an ousted Democratic lawmaker of racism after calling him the "brown face of white supremacy".
Dr. Sabi Kumar, a member of the Tennessee House of Representatives, said Democrat Justin Jones called her "the brown face of white supremacy" during a speech in the House. According to Kumar, this was the first racism he had encountered in his 53 years in America, Fox News reported last week.
"I am an immigrant, everyone knows. I have been in this country for 53 years…" the 75-year-old legislator said in his address to the House.
The Tennessee state legislature expelled two Democratic politicians, including Jones, who led a gun control protest that shut down legislative proceedings last week. The Republican-dominated Tennessee House of Representatives said the two lawmakers brought "disorder and embarrassment to the House."
In those 53 years in America, "I have never encountered racial slurs. I don't know if any of that applies to me. I live a good life. And yet you call me brownface on tape," Kumar said.
She said Jones pointed a finger in her face and said, 'Kumar, they'll never accept you,' and the 27-year-old Democrat threatened to "have a sergeant come and intervene without my invitation." They", reported the news portal, Mediaite.
In an interview with Fox News, Kumar said he was surprised by the incident. "These things should not happen, especially where people continue to defend values so that discrimination and racism do not occur," he said. "I've been here 53 years, I've lived in Tennessee 46 years, and people have been very kind to me," the Republican lawmaker added.
Kumar was elected to the Tennessee House of Representatives in 2014. PTI GRS GRS