India's epic tricolor response to Khalistani supporters in London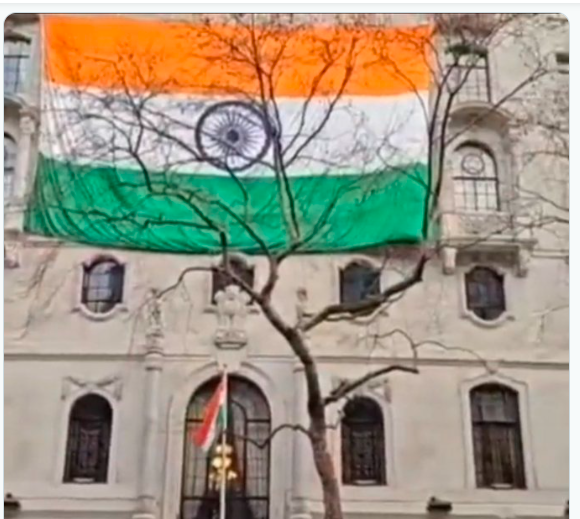 NEW DELHI: A huge tricolor now adorns the Indian High Commission building in London, shortly after Khalistani supporters hoisted the national flag outside the building to protest the crackdown on Amritpal Singh.
A photo of a huge national flag stretched across India House in Aldwich, London has gone viral, with social media users praising the move.
BJP National Spokesperson Jayveer Shergill, who shared the photo on Twitter, said, "Janda Oonja Rahe Hamara" – The UK government should take action against the culprits who tried to desecrate the Indian flag at the London High Commission. Serving/protecting the nation
Footage of a Khalistani supporter pulling down the national flag angered the nation and sparked strong reactions on social media. Many appreciated the brave act of the High Commission official who threw down the Khalistan flag.
British Deputy Ambassador Christina Scott was summoned by the Ministry of External Affairs on Sunday evening after videos of the Indian flag being pulled down started circulating online.
The ministry sought an explanation for the "lack of security" at the High Commission premises and said the UK government's "indifference" towards Indian diplomats and staff was "unacceptable".
"Jhanda Ooncha Rahe Hamara"- UK Govt must act against those miscreants who attempted to disrespect Indian Flag at High Commission,London.Punjab & Punjabis have a glorious track record of serving/protecting the Nation.Handful of jumping jacks sitting in UK do not represent Punjab. pic.twitter.com/TJrNAZcdmf

— Jaiveer Shergill (@JaiveerShergill) March 20, 2023
UK Minister of State for Foreign Affairs, Commonwealth and Development Lord Tariq Ahmed tweeted that he was appalled by the attack on the Indian High Commission.
"I am appalled by today's attack on the Indian High Commission in London. This is a totally unacceptable act against the integrity of the Mission and its staff. The UK government will always take the security of the Indian High Commission very seriously," he said.