Legend Sunil Gavaskar compared India's batsman Suryakumar Yadav with former southpaw Vinod Kambli.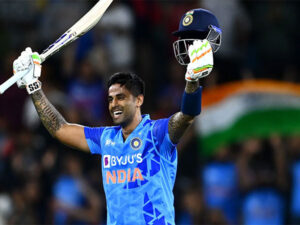 According to the Little Master, Surya and Kambli were different in their style. However, Kambli received flak from fans and Suriya managed to get away with it as we are now in more enlightened times.
"Kambli was different with his style, but it was off the field. On the field, he was turning away hundreds, yet the talk was more about his hair style and what he was wearing. The moment the lean time on the field came, Kambli became the target of the establishment who could not deal with someone who was different from the rest," Gavaskar wrote in a newspaper column.
"Like Kambli, who struggled in his early years because he was a bit flamboyant and different in his off-field behaviour, there were more people in the organization who were smart enough to look at his cricket and not how he dressed. His clothes or hair were colored," he further wrote.
Sunny (known as Gavaskar to fans) praised India's Mr. 360 degree batsman 'Sky' for his explosive century against hosts New Zealand in the second T20I.
"Even the opposition captain described SKY's excellent knock as incredible," Gavaskar said.