Pakistani judges adjourned the hearing on Imran Khan's bail plea in the corruption case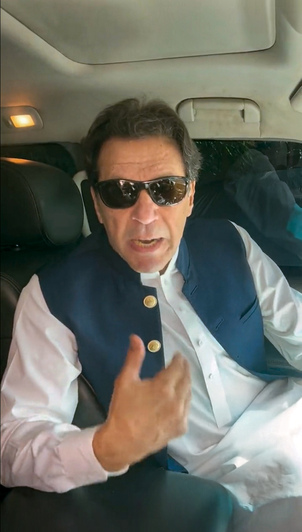 Islamabad, May 12 (PTI) A special bench of the Islamabad High Court on Friday adjourned the hearing on the bail plea of former Pakistan Prime Minister Imran Khan in the corruption case. reports.
Khan, 70, arrived at the court after 11:30 am local time amid tight security and underwent a biometric identification process and other formalities.
A special division bench comprising Justice Miangul Hasan Aurangzeb and Justice Saman Rafat Imtiaz heard the former prime minister's bail plea. The trial was delayed for nearly two hours due to security concerns, media reported.
According to Geo News, the two judges walked out of the courtroom amid chanting by a lawyer. Angered by this, the judges announced that the trial would resume after Friday prayers.
Dawn News reported that Imran's lawyers have filed four additional requests urging the IHC to merge all cases against Imran and order the authorities to provide details of the cases registered against him.
Khan was arrested from the IHC premises on Tuesday in the Al-Qadeer Foundation case after the National Accountability Bureau (NAB) issued an arrest warrant against him.
His arrest by paramilitary Rangers sparked widespread protests across Pakistan, where the army was deployed in Punjab, Khyber Pakhtunkhwa and Balochistan provinces.
The IHC upheld his arrest but a three-judge Supreme Court bench on Thursday declared his detention "illegal" and ordered his immediate release. The Supreme Court ordered the police to keep him in the custody of the Supreme Court and produce him in the High Court at 11 am.
Television footage showed a large number of police and Rangers officers stationed outside the court premises and barbed wire in front of the gate.
It showed many lawyers from outside the IHC raising slogans expressing solidarity with him.
Meanwhile, Khan's Pakistan Tehreek-e-Insaf party in a message asked his followers to reach the G-13 area, not far from the IHC, at 10 am.
Islamabad police issued a statement late Thursday saying Section 144, which bans public gatherings, was still in place in the capital and asked political workers not to "obstruct the legal process."
"We request those calling for protests in Islamabad tomorrow not to disturb the peace," it said in a tweet, adding that legal action would be taken against those who incite the public.
The Supreme Court has directed the Islamabad Police to make appropriate arrangements for the former Prime Minister's security.
On Friday, two senior leaders of Khan's party – including former Union minister Shireen Mazari – were arrested.

Mazari's daughter and lawyer Iman Hazir-Masari shared a video on Twitter showing men in plain clothes forcing their way into her home to arrest the former minister.

His arrest follows the arrest of several top PTI leaders, including Asad Umar, Fawad Chaudhry, Shah Mehmood Qureshi, Ali Mohammad Khan and Senator Ejaz Chaudhry.

All these leaders except Khan were arrested under Maintenance of Public Order (MPO) Section III.
According to Khan, former Punjab Health Minister Dr Yasmin Rasheed has also been arrested.
Khan has urged his supporters to remain calm after two days of massive violence that saw vandalism, arson and bloodshed, stoking fears of civil war in the country.
After the Supreme Court's intervention in the arrest case, peace prevailed in the country, but lasting peace depends on the final fate of Khan, who is running from one court to another seeking bail facing numerous cases. PTI SH ZH AKJ NSA NSA