MV Ganga Vilas Flagship: ₹20 lakh for the entire trip; How to book tickets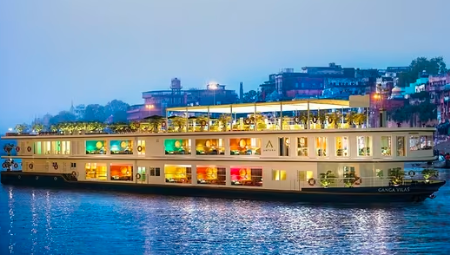 Prime Minister Narendra Modi on Friday flagged off the world's longest river cruise, the MV Ganga Vilas, a 51-day journey from Varanasi to Dibrugarh via Bangladesh, covering a distance of 3,200 km.
MV Ganga Vilas Travel Ticket Price
The ticket price for this luxurious trip per day is around ₹25,000 to ₹50,000. The total cost for the entire trip is around ₹20 lakh for each passenger. The vessel has a capacity of 36 passengers.
MV Ganga Vilas Tickets: How to Book
International cruises are offered by Antara Luxury River Cruises. Tickets can be booked from their website. Booking is not open now as Swiss company has booked. The next trip will be in September and bookings will be open.
MV Ganga Vilas Covers 50 Tourist Attractions: View Full Route
The cruise will cover 50 tourist destinations including World Heritage Sites, National Parks, River Hills and major cities like Patna in Bihar, Shahiganj in Jharkhand, Kolkata in West Bengal, Dhaka in Bangladesh and Guwahati in Assam. The ship will start from Varanasi and will visit Patna, Sahibganj, Kolkata, Dhaka, Guwahati and Dibrugarh.