PM Modi Vietnamese counterpart discuss expanding cooperation in trade and investment defence technology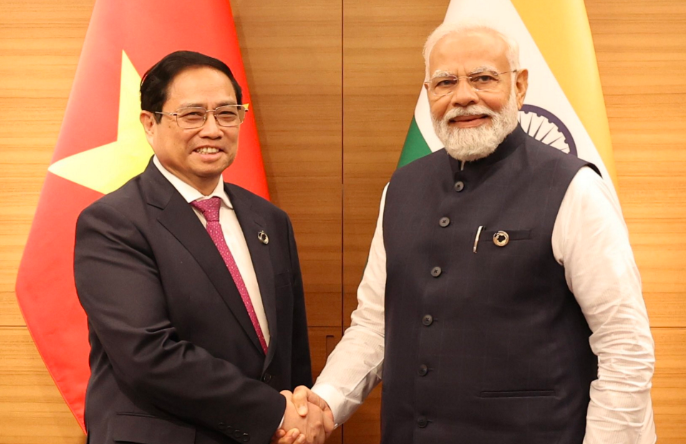 Hiroshima, May 20 (PTI) Prime Minister Narendra Modi on Saturday held wide-ranging talks with Vietnamese Prime Minister Pham Minh Singh during which they discussed opportunities in areas such as trade and investment, defense and energy and agreed to deepen bilateral strategic ties.
The two leaders met at the G7 summit in Hiroshima.
Ministry of External Affairs (MEA) tweeted "Movement – ties to new levels. Wide-ranging talks between Prime Minister @narendramodi and Vietnamese Prime Minister Baomin Chin."
Both leaders noted the steady progress achieved in the bilateral comprehensive strategic partnership. They agreed to enhance high-level exchanges and deepen bilateral trade and investment ties, the foreign ministry said in a statement.
They also discussed opportunities in defense sectors, building resilient supply chains, energy, science and technology, human resource development, culture and people-to-people relations.
The leaders exchanged positive views on regional developments. They also discussed ASEAN and Indo-Pacific cooperation.
ASEAN countries include Brunei, Cambodia, Indonesia, Laos, Malaysia, Myanmar, Philippines, Singapore, Thailand and Vietnam.
Against the backdrop of China's increasing military maneuvering in the resource-rich region, the US, India and other world powers are talking about the need to ensure a free, open and prosperous Indo-Pacific region.
China claims the entire disputed South China Sea, although Taiwan, the Philippines, Brunei, Malaysia and Vietnam claim parts of it. Beijing has built artificial islands and military installations in the South China Sea. China also has territorial disputes with Japan in the East China Sea.
The Prime Minister briefed Prime Minister Singh on India's G20 Presidency and the priority given by India to highlight the perspectives and concerns of the Global South.
Modi arrived in Hiroshima on Friday to attend three sessions of the G7 summit following an invitation from Japanese Prime Minister Fumio Kishida.