Rupee falls 15 paise to close at 82.73 against US dollar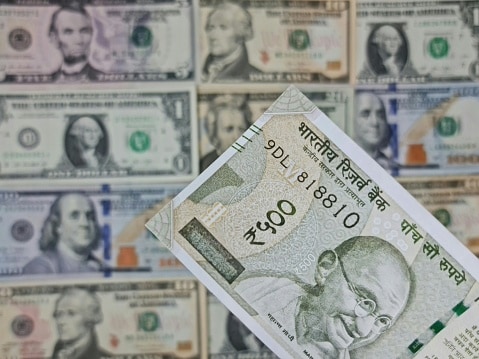 The rupee fell 15 paise to close at 82.73 (provisional) against the US currency on Monday, weighed down by the greenback's gains in overseas markets and a muted trend in domestic stocks.
Institutional crude oil prices further weighed on investor sentiment, forex traders said.
In the interbank foreign exchange market, the rupee opened at 82.68 against the greenback and eased to 82.77. It finally settled at 82.73 (provisional), down 15 paise from its previous close.
In the previous session on Friday, the rupee was at 82.58 against the dollar.
According to BNP Paribas, research analyst at Anuj Chowdhury – Share Khan, the Indian rupee fell on a weaker tone in Asian markets and a stronger dollar.
Traders adjusted their positions ahead of the CPI data, which was expected to be slightly higher than the previous month's reading. However, crude oil's weak start on Monday mitigated the downside.
"We expect the rupee to trade with a negative bias due to risk aversion in global markets and rising US dollar. Continued outflow of foreign investors may add to the negative pressure on the domestic currency," Chowdhury said.
Traders may be wary of inflation data from India today and US tomorrow. The USD-INR spot rate is expected to trade between Rs 82.20 and Rs 83.30, Chowdhury added.
The dollar index, which measures the greenback's strength against a basket of six currencies, was up 0.15 percent to trade at 103.78.
"The dollar strengthened due to risk aversion in global markets amid expectations of a hawkish Fed and an economic slowdown in the UK," Chowdhury said.
Global oil benchmark Brent crude futures were down 1.19 percent at US$85.36 a barrel.
The 30-share BSE Sensex closed down 250.86 points, or 0.41 percent, at 60,431.84, while the broader NSE Nifty ended down 85.60 points, or 0.48 percent, at 17,770.90.