"Shouldn't Be Seen As…": Pak Minister Bilawal Bhutto On India Visit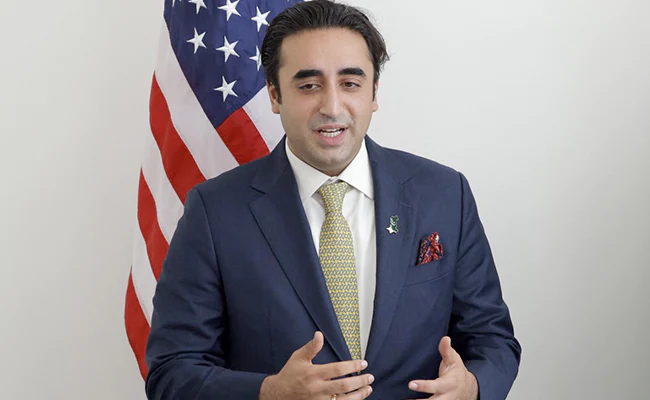 ISLAMABAD: Pakistan's Foreign Minister Bilawal Bhutto-Zardari has said that his participation in the Shanghai Cooperation Organization meeting in India reflects Islamabad's commitment to the SCO Charter and should not be viewed as a basis for bilateral relations.
Responding to a question on Thursday's Dunya News programme, he said that he would represent Pakistan at the Foreign Ministers' meeting in Goa next month. "We are committed to the SCO Charter and this visit should be seen in the context of the SCO and not as a bilateral one," Mr Bhutto-Zardari said.
Bhutto-Zardari will lead the Pakistan delegation to the SCO Foreign Ministers' (CFM) meeting in Goa on May 4-5, the Pakistan Foreign Ministry said on Thursday.
Pakistan Foreign Office Spokesperson Mumtaz Zahra Baloch said during a weekly press on Thursday that Bhutto-Zardari is attending the SCO-CFM meeting at the invitation of Foreign Minister S Jaishankar.
"Our participation in the meeting reflects Pakistan's continued commitment to the SCO Charter and process and the importance Pakistan places on the region in its foreign policy priorities," the spokesperson said.
Bilawal Bhutto is the first foreign minister to visit India after a gap of about 12 years. In 2011, then Pakistan Foreign Minister Hina Rabbani Khar came to India.
India has formally invited all members of the Shanghai Cooperation Organization (SCO), including Pakistan and China, to the upcoming foreign ministers' meeting.
Chinese Foreign Minister Qin Gang and his Russian counterpart Sergei Lavrov are also expected to attend the meeting.
India assumed the chairmanship of the 9-member mega-group in September last year and will host key ministerial meetings and summits this year.
Relations between the two countries have been precarious for years over issues of cross-border terrorism from Pakistan, even as Islamabad sought to restore Article 370 to the former Indian state of Jammu and Kashmir for any talks.
The 20-year-old organization includes Russia, India, China, Pakistan and four Central Asian countries – Kazakhstan, Kyrgyzstan, Tajikistan and Uzbekistan as members.
Iran is a recent member and for the first time under the Indian presidency is attending a meeting of the group as a full member.
The last meeting of the Shanghai Cooperation Organization was held in Samarkand, Uzbekistan.
Prime Minister Narendra Modi attended the SEO Summit in Samarkand, Uzbekistan. The 22nd meeting of the Council of Heads of State of SCO in September 2022 will be the first in-person summit since the June 2019 meeting of SCO Heads of State in Bishkek, Kyrgyzstan.
Comment
Notably, this year's SCO Foreign Ministers' Meeting comes in the wake of Russia-Ukraine war escalation and India's G20 presidency.