Sri Lanka hit by trade union strikes against tax reforms ahead of IMF bailout deal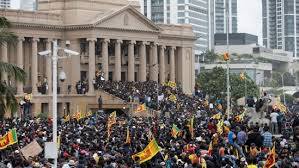 Colombo, March 13 (PTI) Unions in most of Sri Lanka's public sector companies went on strike on Monday against the government's tax reforms to seek approval for a US$2.9 billion bailout package from the International Monetary Fund.
The debt-ridden country introduced painful economic measures, such as tax hikes and utility rate increases, as part of reforms recommended by the International Monetary Fund (IMF) to trigger the bailout package.
The doctors' union said it had launched a strike on Monday, covering four of the island nation's nine provinces.
"Doctors will be on strike till 8 am tomorrow. Union spokesperson Dr. Sammil Wijesinghe said that we are only providing emergency services in hospitals.
"We want the government to roll back the new tax policy," he added.
University Teachers Union spokesperson Shyaman Panneheka said the industrial action began on March 9 when the workers walked off the job.
"We will engage in joint action with other unions from Wednesday (March 15) until the government withdraws the new tax policy," Panneheka said.
"We are against it and want the government to withdraw it," said Shamal Sumanaratne of the port workers' union, adding that the new high taxes would reduce everyone's standard of living.
He said port workers have started a 'go slow' union action at the port.
"We will join hands with other unions on March 15 to stage the biggest strike in history," Sumanaratne said.
The water sector unions also joined its spokesperson, Engineer Upali Ratnayake, in saying that workers would only carry out emergency work from Monday.
"We are going on a half-day strike on March 14 and will join other unions in a major strike on March 15," the spokesperson said.
Unions oppose tax reforms imposed on IMF mandates.
The cash-strapped country is awaiting formal approval by global lenders for a $2.9 billion bailout package on March 20.
President Ranil Wickramasinghe has said that the public will have to suffer for a certain period of time to recover from the worst economic crisis in the island nation.
Wickremesinghe recently told Parliament that all the IMF's preconditions for a bailout have been met and that the recommended reforms are necessary for implementation.
His government raised personal taxes and utility bills and cut subsidies as part of needed reforms.
The IMF bailout process progressed slowly due to the need to restructure nearly $50 billion of Sri Lanka's external debt.
According to figures released by the Treasury, by the end of June 2022, the debt-ridden country owes nearly US$40 billion in bilateral, multilateral and commercial debt.
Chinese loans account for 20 percent of total debt and 43 percent of bilateral loans.
In January, India strongly backed the island nation's efforts to secure a loan from global lenders to recover from its worst economic crisis.
In April, Sri Lanka declared a debt default for the first time in its history amid public protests fueled by a shortage of foreign exchange, an economic crisis since independence from Britain in 1948.
Months of street protests led to the ouster of then-President Gotabaya Rajapaksa in mid-July. After refusing to tap the support of the global lender, Rajapakse opened IMF negotiations.