Where do broken hearts go Sania Mirza's cryptic Insta story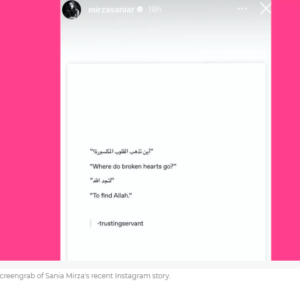 It seems that things are not right between Indian tennis player Sania and Pakistani cricketer Shoaib Mali. Amid divorce rumors between the celebrity couple, the former tennis doubles World No. 1 has grabbed the spotlight by sharing a cryptic post on her Instagram account.
The Instagram story comes at a time when Pakistani media is abuzz with reports of alleged cheating on Malik Mirza. Divorce rumors have caught on like wildfire and speculation is rife that the high-profile marriage is in trouble.
"Where broken hearts go, to find Allah," Sania posted on her Instagram story, sparking a buzz about trouble in this paradise.
Although the reason for the alleged rift is still unclear, the couple is rumored to have split up and have been living separately for some time now. Ever since the media reports came out, the couple's fans – spread across both countries – have been scrutinizing every post of the couple.
A few days ago, Sania shared a picture with her son on her Instagram account, captioning it, "Moments that got me through tough days."
View this post on Instagram
However, whenever they get time out of their busy schedule, the couple meets each other in Dubai. Earlier, these meetings were few and far between, but now it has become rare.
Recently, the couple got together in Dubai to celebrate their son Ishaan's fourth birthday.
View this post on Instagram
Malik shared pictures of his son's birthday party on Instagram, but surprisingly, or not, Sania didn't post a single picture on her social media accounts.