World frightens even today when it hears word Hiroshima: PM Modi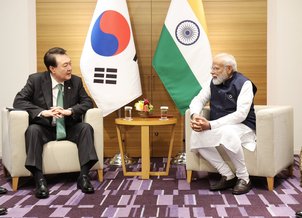 Hiroshima, May 20 (PTI) Prime Minister Narendra Modi on Saturday unveiled a bust of peace ambassador Mahatma Gandhi in the Japanese city, saying that the word 'Hiroshima' still scares the world.
Modi, who was in Japan for the G7 summit, made the remarks after unveiling a 42-inch bronze statue of Gandhi in Hiroshima.
The bust site along the Motoyasu River is adjacent to the iconic A-Bomb Dome, which is visited by thousands of people – both locals and tourists – every day.
"Even today, the world fears the word Hiroshima. "I had the opportunity to unveil the bust of Mahatma Gandhi when I was in Japan for the G7 summit," he said after unveiling the bust.
"I would like to thank the Japanese government for giving me the opportunity to unveil the bust in Hiroshima," he said.
On August 6, 1945, the United States dropped the world's first atomic bomb on Hiroshima, destroying the city and killing approximately 140,000 people.
As the world today grapples with climate change and terrorism, Modi asserted that the best solution is to follow Gandhi's principles to win the fight against the climate crisis.
He said the true tribute to Gandhi is to follow his principles.
"The bust of Mahatma Gandhi in Hiroshima will promote the idea of non-violence.
"It is a great moment for me to know that the Bodhi tree that I gifted to the Prime Minister of Japan has been planted here in Hiroshima so that people can understand the importance of peace when they come here. I pay my respects to Mahatma Gandhi," he said.
After unveiling a statue of Padma Bhushan awardee Ram Vanji Sudhar in Hiroshima, Modi interacted with Indian diaspora.
Dignitaries attending the opening ceremony included Kazumi Matsui, Mayor of Hiroshima City; Tatsunori Motani, Speaker of the Hiroshima City Assembly; Members of Parliament and senior government officials from Hiroshima; Members of the Indian community and followers of Gandhi in Japan.
Interacting with renowned Japanese artist Hiroko Takayama and writer, Hindi and Punjabi linguist Tomio Mizogami, Modi praised them for their contributions in bringing the two countries closer.
"Met Ms. Hiroko Takayama, a respected artist with close ties to India. He has worked extensively in promoting cultural ties between India and Japan. He also gave me his artwork," he tweeted.
"In Hiroshima, I had the pleasure of interacting with Prof. Tomio Mizogami. He is a Padma awardee, Hindi and Punjabi linguist. He has made many efforts to popularize Indian culture and literature among the people of Japan," he said.
Modi, who will visit Hiroshima from May 19 to 21, is expected to address the annual summit of the G7 advanced economies, where he is expected to address challenges facing the world, including food, fertilizer and energy security.
He will hold bilateral meetings with some of the world leaders participating in the Hiroshima G7 summit.
The G7 consortium includes Japan, the United States, the United Kingdom, France, Germany, Canada and Italy, and the European Union. PTI MRJ AKJ MRJ MRJ