DDMA holds mock drill on earthquake readiness in Delhi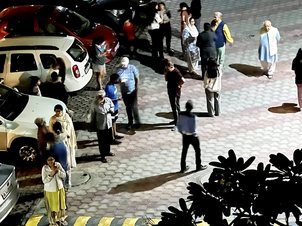 New Delhi, March 24 (PTI) The Delhi Disaster Management Authority on Friday conducted a mock earthquake preparedness exercise in all districts of the national capital, officials said.
According to fire service officials, 55 water tenders were dispatched across the city as part of the exercise.
Areas where the exercises were held included MCD (Municipality of Delhi) School in Kapashera, MCD Office in Najabgarh, Vegas Mall in Dwarka, Rao Tularam Memorial Hospital in Jabarpur Kalan, Residential Complex in Dwarka Sector-9, Kendriya Vidyalaya.
East of Kailash, Jal Vihar in Lajpat Nagar and V3S Mall in Lakshmi Nagar.
Police and firemen, civil defense volunteers and Delhi Disaster Management Authority (DDMA) officials were also seen at the spot.
As part of the exercise, they escorted people out of the premises where the exercise was conducted.
The exercise comes days after the national capital and its surrounding areas felt tremors for two consecutive days.
DDMA has asked people not to panic as this is a mock exercise to prepare themselves in case of such emergencies in future.
(This story has not been edited by cleverreadd and is auto-generated from PTI)