Irfan Pathan faced vicious trolls on Thursday after India crashed out of the 2022 ICC Men's T20 World Cup after losing to England by 10 wickets in the second semi-final at the Adelaide Oval.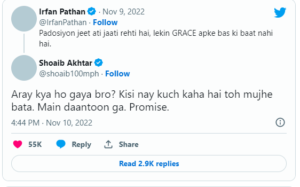 Pathan had on Wednesday tweeted about Pakistan fans who had hurled abuse at India in the stands after their win over New Zealand in the first semi-final at the SCG. He had tweeted: "Padosiyon jeet ati jaati rehti hai, lekin GRACE apke bas ki baat nahi hai.." This means no mercy can be expected from Pakistani fans. Irfan later clarified that the tweet was not aimed at any player of the Pakistan cricket team but was directed at the fans at the stadium.
" English Openers are not showing any grace😭😭 😂😂" @IrfanPathan

— Ihtisham Ul Haq (@iihtishamm) November 10, 2022
However, the tweet did not go down well among Pakistanis, fans and former players. He was trolled for his comments. But the trolling worsened when India lost their semi-final match to England and eventually crashed out of the tournament. From former players Imran Nazir to Pakistani journalists and fans, Irfan was attacked from all corners.
Padosiyon jeet ati jaati rehti hai, lekin GRACE apke bas ki baat nahi hai.

— Irfan Pathan (@IrfanPathan) November 9, 2022

Let's not forget that when India toured Pakistan in 2004, Irfan, a much-loved personality in the neighboring country, made a return after creating many fans. But this time he's on the receiving end of a lot of hate. Cricket clashes really lose perspective and venom and hatred between the two countries and as the biggest stakeholders in the game at this time, fans need to be careful with the words they choose.