Pak Judge Offers To Stop Imran Khan's Arrest If He Surrenders: Report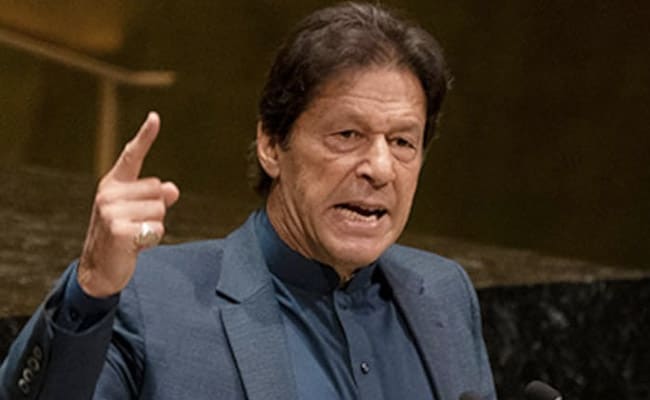 ISLAMABAD: A Pakistani court judge said on Thursday that he will stay the arrest of former Pakistan Prime Minister Imran Khan in the Doshakhana case, only if Khan surrenders in court, Dawn reported.
A bench of Additional District and Sessions Judge (ADSJ), Zafar Iqbal made the above comments while hearing the Election Commission of Pakistan's (ECP) reference seeking criminal action against Imran Khan for concealing details of Doshakhana prize.
According to a report in Dawn, the PTI chief was scheduled to be arraigned on February 28 in a Sessions Court note, but his lawyer asked the judge to excuse him from the trial as he has to appear in several courts. His indictment has been adjourned several times before.
Khan was later issued non-bailable arrest warrants and the judge directed the police to produce him before the court by March 7. The PTI leader avoided being taken into custody and later petitioned the Islamabad High Court (IHC) to quash the warrants.
The country's former prime minister was granted some respite by the IHC, but was directed to appear before the Sessions Court on March 13; However, the former prime minister again ignored the inquiry.
As a result, ATSJ Iqbal on Monday issued fresh non-bailable arrest warrants to Khan and he directed the police to bring him to court by March 18.
PTI supporters and law enforcement agencies engaged in two days of fierce fighting as police tried to arrest Imran Khan at his Zaman Park mansion in Lahore on Tuesday. After the courts got involved on Wednesday, the fights eventually stopped.
The most recent arrest warrants for Khan were also contested by PTI on the same day before the IHC. After the plea was rejected, the PTI leader was asked to give an undertaking in the trial court to appear for the hearing on March 18.
The case came up for hearing again in the court of ATSJ Iqbal on Thursday morning. Imran's lawyers Khawaja Haris Ahmed and Babar Awan were present.
A report published in Dawn read a memorandum filed last year by legislators from the ruling coalition, accusing them of not disclosing information about gifts received from Imran Doshaskana (when he was prime minister) and money from their sale. The Election Commission of Pakistan (ECP) on October 21 concluded that the former prime minister had indeed made "false statements and false declarations" about the gifts.
Toshakana is a division of the Cabinet Division which deals with gifts given by foreign dignitaries and heads of other states to kings and officials.
According to the order, Khan was declared ineligible under Article 63(1)(p) of the Constitution.
The ECP later submitted a copy of a memorandum to the Islamabad Sessions Court, demanding that Imran be charged for lying to officials about gifts he received from foreign dignitaries while serving as prime minister, Dawn newspaper reported.