PM addresses tens of lakhs of BJP workers virtually in poll-bound Karnataka slams "revdi culture"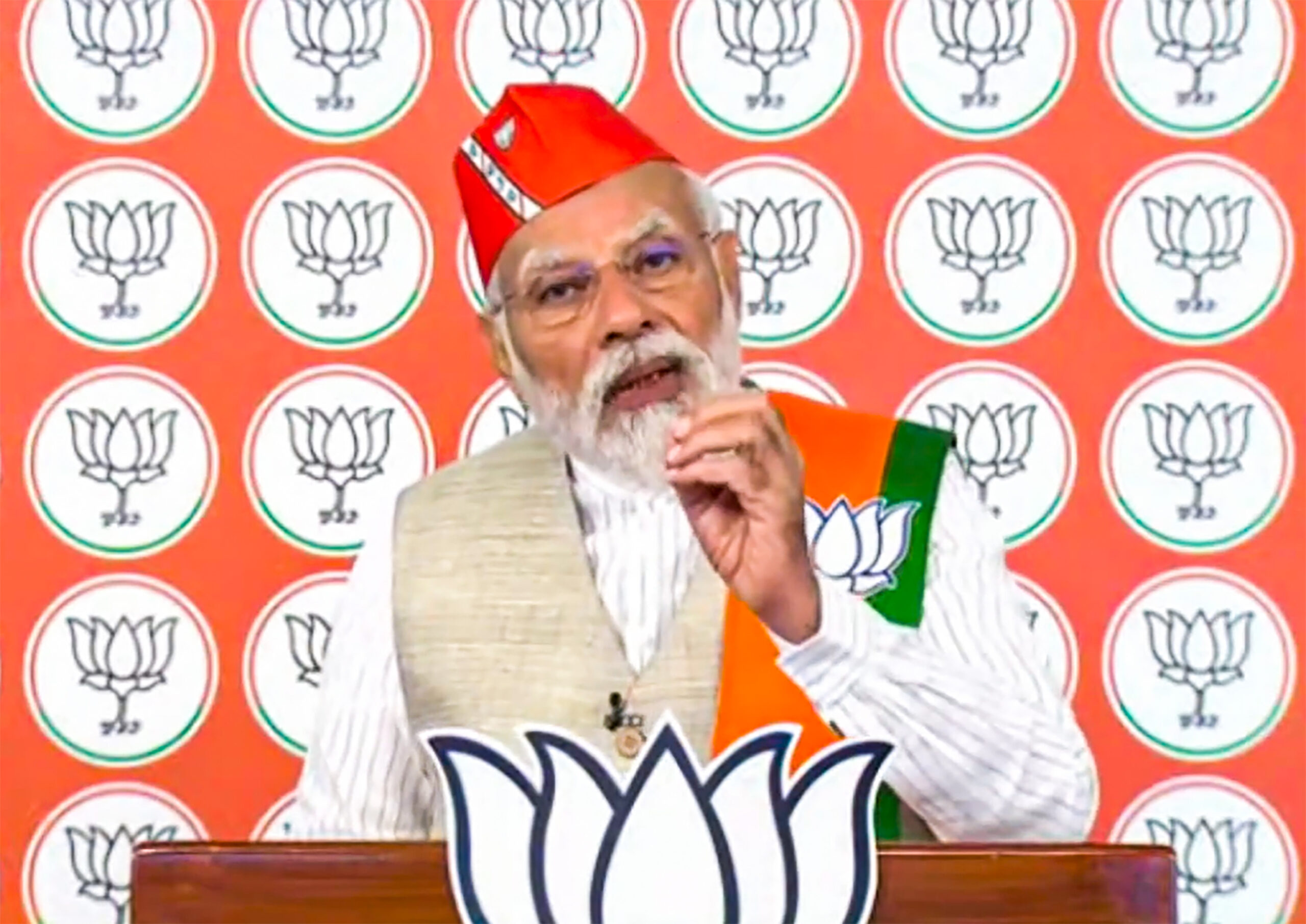 Bengaluru, Apr 27 (PTI) Prime Minister Narendra Modi on Thursday addressed tens of thousands of BJP workers virtually and directed them to strengthen booth-level campaigning for the upcoming Karnataka assembly elections. a culture of handing out freebies).
Hitting out at the Congress on the issue, Modi said what is the meaning of the party's guarantees when its guarantee has expired.
For the Karnataka elections, the Congress has announced 'guarantees' of 200 units of free electricity (Gruha Jyoti) to all households, Rs 2,000 monthly assistance to every female head of the household (Griha Lakshmi), and Rs 3,000 every month to graduate youth. 1,500 for diploma holders (both between 18-25 years) for two years (Yuvanidhi) after coming to power in the state.
The Prime Minister said that states are drowning in debt due to freebies and emphasized that the country and governments cannot be treated like this.
"Some political parties in our country have made politics a channel for power and corruption, and to achieve this, they use all means, 'saam, dham, dhand, bedh' These political parties are not thinking about the future of the country. , the future generation of Karnataka, the youth, the women," Modi said.
Because of free politics, many states spend heavily on partisan politics, which eats away at the "stakes" of future generations, he said.
"Countries cannot be run like this, governments cannot be run like this. Governments have to think about the present as well as the future. Governments cannot run for daily needs, they have to work to create wealth. The lives of families have been on the line for decades," he said during "Karyakartarondige Samvada"  (An interaction with workers). He also said.
The Prime Minister's address to BJP workers is part of the party's efforts to ramp up its campaign for the May 10 assembly elections.
The party said earlier this week that around 50 lakh workers from 58,112 booths would participate in this "virtual rally" of the Prime Minister.
The state BJP is looking to Modi to bolster its campaign.
The Prime Minister is scheduled to embark on a two-day tour of the state from Saturday, during which he is scheduled to address six public meetings and hold two road shows.
Modi said that BJP does not take shortcuts and strives for a developed India.
"BJP doesn't think about its five-year rule but thinks about the country. We don't think about the party, we think about the country. We don't just think about the current electoral politics, but we think about moving India forward. The next 25 years", he said.
To face some temporary challenges, all the help like free ration, free vaccination is given to the poor and it is the government's duty, he said, "But if we want to progress India, we have to get. We have to eradicate this revdi  culture."
"I appeal to the youth, some parties may try to fool you by distributing freebies, but it is your duty to think about your future and the future of your future generations.
Targeting the Congress's "revdi culture" in Himachal Pradesh and Rajasthan, Modi said their electoral promises are still guaranteed. "Congress is guaranteed corruption, guaranteed nepotism."
"Congress has gotten to the point where it can't give real assurances, you know, Congressional assurances are out of date, what those assurances mean," he added.