Rahul Gandhi's Request For Stay On Defamation Conviction Being Heard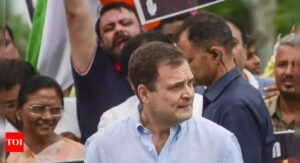 Surat: Hearing on Congress President Rahul Gandhi's plea seeking a stay in the defamation case against him in which he was sentenced to two years in jail in the Sessions Court in Gujarat's Surat city began on Thursday.
Bharatiya Janata Party (BJP) MLA and complainant Purnesh Modi, in a reply filed earlier in the same court, had opposed Gandhi's plea seeking a stay of sentence, calling the Congress leader a "repeat offender" with a habit of making defamatory statements.
On Thursday, arguments from both sides began in the court of Additional Sessions Judge RB Mogera.
"The court will first hear the arguments of Rahul Gandhi's lawyers seeking a stay of sentence. After that, we will present our objections and arguments against their plea seeking a stay of sentence," Purnesh Modi's lawyer Ketan Reshamwala said before entering. Courtroom.
On 23 March, the Metropolitan Magistrate's Court in Surat convicted Rahul Gandhi and sentenced him to two years in prison for saying during an election rally on 13 April 2019, "How Modi is a common surname for all thieves".
Gandhi appealed the verdict before Justice Mogera. He has prayed for a stay of sentence in the meantime.
In his appeal, Gandhi termed his sentence "wrongful" and patently perverse.