Rihanna reveals baby bump at Super Bowl 2023; is pregnant with second child, confirms representative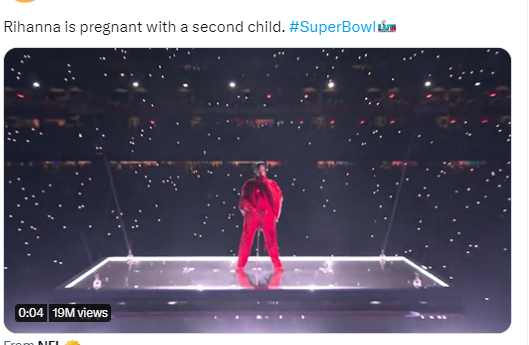 Rihanna's Super Bowl 2023 performance took social media by storm as many fans believed the singer was pregnant for the second time. Now, the singer's official rep has confirmed that she is indeed pregnant with her second child with her partner, rapper A$AP Rocky.
Rihanna's highly-anticipated Super Bowl performance had many highlights, as the singer covered many of her greatest hits, starting with B***h Better Have My Money and ending with Diamonds. During her performance at the State Farm Arena in Glendale, Arizona, where the Philadelphia Eagles were playing the Kansas City Chiefs, the singer was seen cradling her midsection multiple times, leading many fans to speculate on social media whether she was pregnant again. Rihanna is a parent to a nine-month-old son with rapper A$AP Rocky.
Rihanna is pregnant with a second child. #SuperBowl pic.twitter.com/Zd0BhXHmgt

— Pop Hive (@thepophive) February 13, 2023

A rep for Rihanna confirmed the pregnancy news to The Hollywood Reporter. The singer's return to the stage took the music industry by storm as her fans reminisced about what they had been missing for the past few years. She unzipped her dress during her performance, sending social media into a frenzy wondering if the singer was pregnant. It was Rihanna's first live performance since 2018, and she hasn't released an album in seven years. Singer Shakira took to Twitter to congratulate the Super Bowl with a photo of them together. He captioned the post: "Reminiscing about the good times and best vibes for tonight's show, Rih!"
Remembering good times and wishing you the best vibes for tonight's show, Rih! 🥰 @rihanna #SBLVII #AppleMusicHalftime pic.twitter.com/RjJnVggj7y

— Shakira (@shakira) February 12, 2023
In a pre-Super Bowl press conference, Rihanna talked about what inspired her baby son to star in the show, saying, "There's something that happens when you're a mom where you think you can take on the world and do anything. . The Super Bowl is one of the biggest stages in the world. As scary as it is, I haven't been on stage for seven years, so there's something exhilarating about the challenge of it all. It is important for me to do this this year. It's important for representation and it's important for my son to see that," she said.