World Sustainable Development Summit: Experts push for more climate finance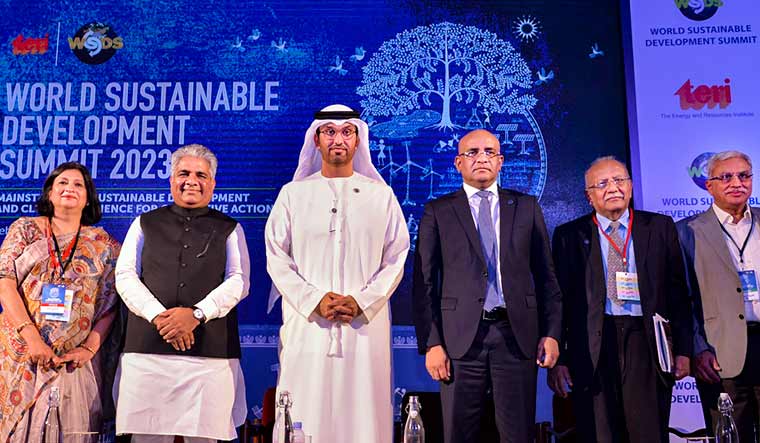 Climate change is affecting the world in a big way. Environmentalists, climatologists, the corporate sector, academic institutions, and policymakers look to sustainable models to help raise awareness of how changes in climate may affect the health of future generations, but make changes that have long-term impacts.
To better understand the problem and find ways to effectively work towards this goal, the Energy and Research Institute (TERI) organized the 22nd World Sustainable Development Summit 2023 in New Delhi from February 22 to 24. It should be added to the priority list of government and private organizations that need to pump resources into producing results.
Amitabh Kant, Sherpa, G20, Ministry of External Affairs (MEA), who attended the event, focused on achieving decarbonisation targets by 2030. India could be the first country to industrialize the world without decarbonizing it, thus taking several steps towards Nationally Determined Contribution (NDC) targets at the Paris Climate Conference (COP 21). He said if all stakeholders work together in this direction, these goals can be achieved before the 2030 deadline.
Noting that India is blessed with climate and capable of producing green hydrogen at low cost, he said the price of green hydrogen is currently around $5 per kg and should be brought down. $2.5 per kg in the next two-three years and $1 per kg by 2030.
"To produce green hydrogen on a large scale, you need long-term corporate financing, credit development, first-class guarantees, an organization like the Multilateral Investment Guarantee Agency (MIGA) to do it," he said.
"However, institutions designed for the post-World War II era were not designed to be climate finance institutions. So, unless you structure them to fund the full SDGs and climate finance, you cannot get long-term financing. So these international institutions that provide direct lending can become instruments and agencies for indirect financing. Have to," he explained.
Jagjeet Singh Sareen, principal of Dalberg Advisors, a consultancy firm, also advocated expanding the scope of climate finance and creating climate smart change.
"In the G20 countries—about 85 or 90 percent of global GDP—our leaders need to rapidly transition from short-term climate finance to a climate-smart transformation of the financial sector, which is where environmental, social and corporate governance (ESG), disclosures, and new capital climate technology become critical," he said. emphasized.
Climate change is still not considered a crisis, making it difficult for countries and corporates to act proactively to combat its causes and ill effects, commented Mahendra Singhi, CEO of Dalmia Cement. He also pointed out that there may be a lack of specific strategies needed to deal with climate change.
"If you look at any year's budget, less money is earmarked to finance such activities. The reason is that we still don't think of climate change as a crisis. It's not that countries or corporates don't have funds, Singh said. "We know very well that countries spend huge amounts of money to finance wars and at the same time invest money in taking care of people in terms of hurricanes, typhoons or Covid. But the reason specific Sustainable Development Goals (SDGs) do not allocate specific funds to climate action is because there is no specific strategy for using funds to achieve a specific goal.
One of the experts, Dr Durupa, Burkayastha, Director of India's Climate Policy Initiative, highlighted the huge gap in climate investments globally.
"There is a huge gap in climate investments globally. As a climate policy initiative, we've tracked that over the past seven years and found that the order of magnitude needed is somewhere between $2.5 and $3 trillion. However, what we are reaching is less than $1 trillion and it is the same story that all other companies are telling," he informed.
Like others, Dr Burkayastha argued that there is a need for an institutional mechanism to ensure that money generated for this purpose is spent judiciously. The stakeholders gathered at the summit called for a collaborative approach going forward to address climate change concerns for a better future.