Indian auto industry pioneer Keshub Mahindra dies at 99
Keshub Mahindra, pioneer of the Indian automobile industry and chairman of Mahindra & Mahindra Limited, passed away in Mumbai on Wednesday morning due to old age.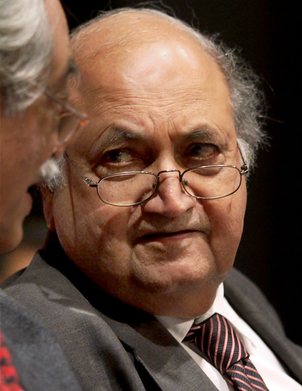 Mahindra, 99, breathed his last peacefully at home on Wednesday morning, a source close to the family said.
He led the Mahindra Group as chairman for 48 years, expanding from an automobile manufacturer to other business segments such as IT, real estate, financial services and hospitality.
He was instrumental in building business alliances with global companies such as Willys Corporation, Mitsubishi, International Harvester, United Technologies, British Telecom and others.
A graduate of Wharton University of Pennsylvania, USA, Mahindra joined M&M in 1947 and became its chairman in 1963.
In 2012, Keshub Mahindra, who had been one of the directors of Mahindra & Mahindra for 64 years, oversaw the group's transformation from a steel trading company to a $15.4 billion diversified conglomerate with his son-in-law, the then Vice-Chairman and Managing Director Anand Mahindra.
He has served on numerous boards and councils in the private and public domain. He was the founder chairman of HUDCO and served on several corporate boards including SAIL, Tata Steel, Tata Chemicals, Indian Hotels, IFC, ICICI and HDFC.
Besides, he also held the post of President of the Confederation of Indian Employers and the Bombay Chamber of Commerce and Industry. He was a member of the Sachar Commission on Company Law and Reforms, a member of the Prime Minister's Council for Trade and Industry and Chairman of the Indian Institute of Management, Ahmedabad.
In a statement, Society of Indian Automobile Manufacturers (SIAM) president Vinod Aggarwal mourned the loss of one of its pioneers to the Indian automobile industry.
"His leadership in the early years of the Indian automobile industry's journey led to India being recognized as a major player globally and helped India become a manufacturing hub for the automobile industry," he added.
Mahindra was chairman of SIAM in 1964.
"Siam and the Indian automobile industry mourn the demise of a true visionary and pray for the departed soul to rest in peace," Agarwal said.
Former M&M Managing Director Pawan Goenka tweeted, "The world of industry has lost one of its tallest men today. Shri Keshub Mahindra is unmatched; the best man I had the privilege of knowing. I always looked forward to the MDGs with him. He bridged business, economy and social issues. Om Shanti ."
Apart from the headline, this story has not been edited by The Telegraph Online staff and is published from a syndicated feed.