Israel replenishes the Sea of Galilee, supplying the Jordan along the way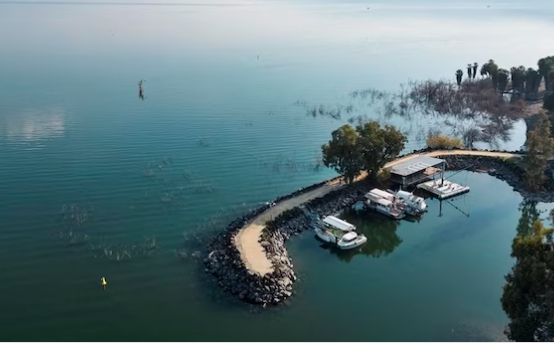 When the floodgates are opened, water flows through the dry riverbed and rushes toward the shores of the Sea of Galilee, a biblical lake in northern Israel that was lost to drought and the growing population around it.
The water is fresh, high quality, and expensive. Desalinated from the Mediterranean Sea, it is transported across the country and awaits orders to refill it if the lake begins to shrink again.
The new network would allow Israel to double the amount of water it sells to neighboring Jordan under a broader hydro-power deal that has been forged through a working, often fractured relationship.
The Sea of Galilee, where Christians believe Jesus walked, is Israel's main reservoir and a major tourist destination. The hotels and camps have a perimeter surrounded by lush green hills. It feeds the Jordan River, which flows south to the Dead Sea.
After a heat wave or heavy rain, lake levels become national news. Alarms continued to sound over the past decade following prolonged droughts and receding shorelines. So Israel built a chain of desalination plants along its Mediterranean coast, a bright spot in an arid region most vulnerable to climate change, with no possibility of surplus water.
"All the additional water produced by (the plants) can be brought into the North and the Sea of Galilee with the national water carrier system," said Yoav Parke, who manages the national carrier at state-owned Mekorot. .
He stood in a collection pool above the lake on a dry, sunny day in late January that felt more like spring than winter.
"In this environment of climate change, you never know what to expect next year and beyond," he said. "We no longer rely on rain for water supply."
Water and peace
As water exports to Jordan increase, the recharge system may be used more frequently, he said. According to Mekorot, this raises the lake level by half a meter every year.
Water was a key element in the peace accord signed by the neighbors in 1994. Israel agrees to supply Jordan with 50 million cubic meters of drinking water per year. This will double by late 2021.
Both countries remain active participants in the agreement, even as they accuse each other of exacerbating the broader problem of water scarcity by managing their shared and linked rivers.